Rönesans Holding, having invested over EUR 7 billion in Türkiye through its partnerships to date, has recently entered into one of the most extensive business partnerships in the history of the Republic of Türkiye. This partnership is focused on renewable energy, a sector the company considers a strategic area for growth. 
The partnership agreement between TotalEnergies, one of the world's largest energy companies, and Rönesans Holding was signed in İstanbul on Friday, July 21, 2023.   
Erman Ilıcak, President of Rönesans Holding, and Stéphane Michel, President of Gas, Renewables & Power and Member of the Executive Committee at TotalEnergies, signed the Rönesans Enerji Partnership Agreement in the presence of Alparslan Bayraktar, Energy and Natural Resources Minister of Türkiye and Hervé Magro, Ambassador of France to Türkiye.  
According to the agreement, TotalEnergies has acquired 50 percent of the shares of Rönesans Enerji, a subsidiary of Rönesans Holding. As a result of this partnership, Rönesans Enerji will operate under the joint ownership of Rönesans Holding and TotalEnergies (50-50 percent). Currently, Rönesans Enerji has an installed capacity of 166 MW with its 6 hydroelectric power plant (HEPP) projects. In the coming period, the company aims to further its growth to establish itself as one of Türkiye's top 3 green energy companies, with a 100% renewable energy portfolio.  
Rönesans Holding, which primarily generates its revenues from projects and investments abroad, has partnered with international companies such as France-based Meridiam, Japan's Sojitz, and Korea's Samsung, resulting in over EUR 7 billion invested in Türkiye. With the aim of further growth, the company plans to surpass EUR 10 billion in total investments in Türkiye by 2028 through investments in diverse business lines.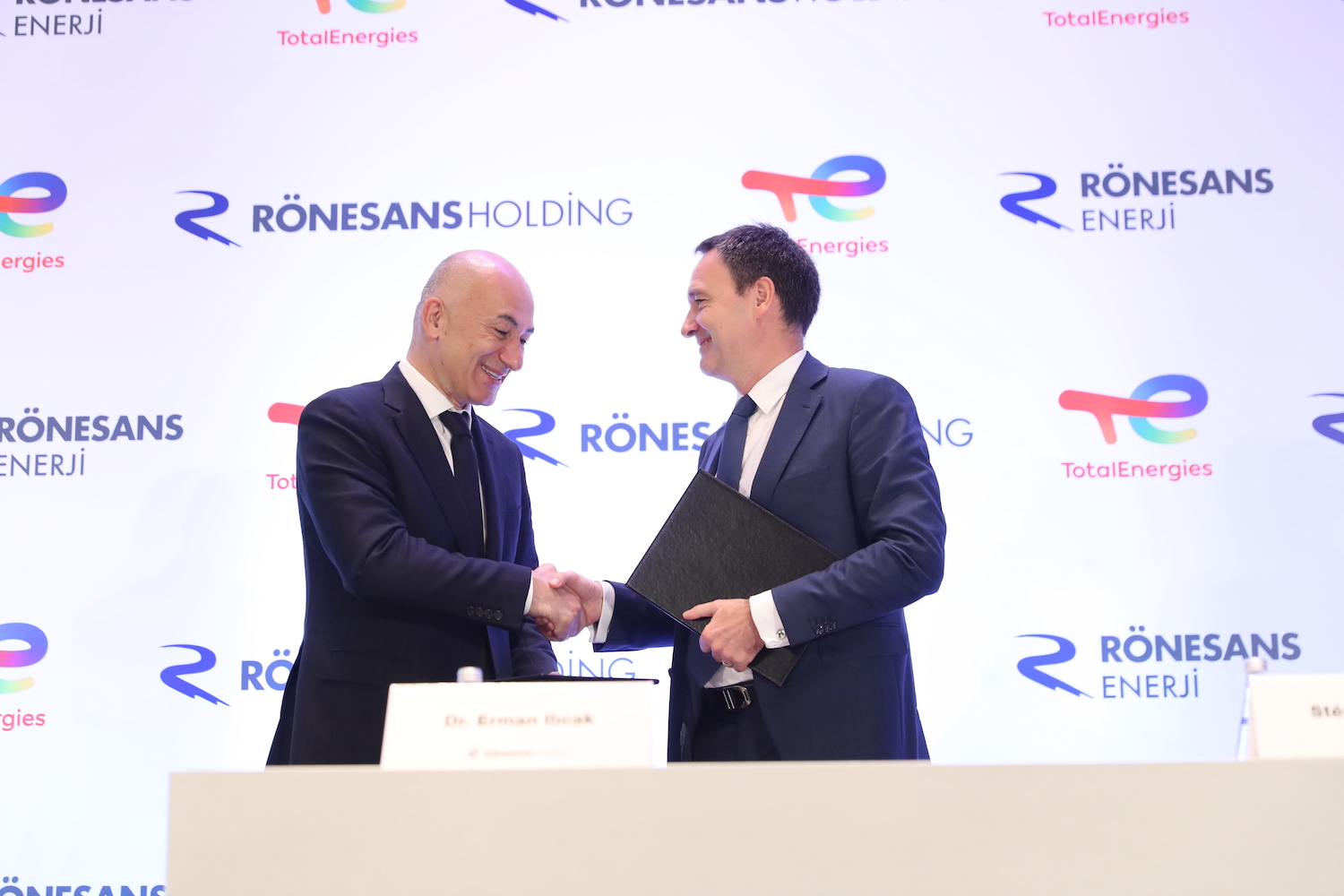 ENERGY TRANSFORMATION CENTERED ON CLIMATE CHANGE
Speaking at the signing ceremony, Dr. Alparslan Bayraktar, Energy and Natural Resources Minister of Türkiye emphasized that the global energy markets are undergoing a significant transformation. He highlighted that energy discussions, once focused on the reliability of supply, have now shifted to combating climate change, making climate-centered practices increasingly vital. Bayraktar stated, "In this framework, electrification, decarbonization, diversification, and digitalization are the new trends in energy. Of course, I would like to emphasize that this transformation is not simple and needs to be designed and supported with the right policies and regulations. In order for the energy transformation to succeed, we need to implement rational, flexible, and consumer-sensitive policy sets. However, in addition to all these, market contractions, monetary policies, geopolitical developments, and supply chain problems make this energy transformation challenging."  
Energy and Natural Resources Minister of Türkiye, Alparslan Bayraktar, emphasized that despite the issues of the last few years, such as the pandemic, the war in our region, and the February 6 earthquakes, our country has successfully passed through these processes with its strong and durable energy infrastructure. He continued his words as follows: "In the coming period, we are starting a new investment and reform move in line with our country's goals of combating climate change as well as ensuring reliable, affordable energy supply. In this context, we have 3 main goals. The first is to meet Türkiye's increasing energy demand, the second is to ensure the efficient allocation of resources, and the third is to diversify resources. Accordingly, the main areas that will stand out will be Renewable Energy, Energy Efficiency, Nuclear Energy, Natural Gas as a Transition Fuel, Hydrogen, and Digitalization in Energy. Renewable energy is an area that contributes to energy supply reliability against increasing demand, makes prices more competitive, and reduces our dependence on foreign energy. At the same time, in line with our President's goal of becoming a carbon-neutral country by 2053, renewable energy aligns with Türkiye's goals to combat climate change."  
Reminding that Türkiye has made significant breakthroughs in renewable energy in the last 20 years, from resources to technology, Minister Bayraktar said, "Today, approximately 55 percent of our installed capacity is composed of renewable energy resources. In this sense, we rank 12th globally and 5th in Europe. Our target with Türkiye's National Energy Plan, which we announced last February, is to increase the share of renewable energy in installed capacity to 65 percent by 2035. To this end, we want to commission all our renewable resources, including 3000 MW of solar, 1500 MW of wind, and a total of 5000 MW of offshore wind, every year for the next 12 years and introduce them into our economy. We take a holistic approach while accelerating renewable energy investments and consider these technologies part of a wide ecosystem from critical mines to equipment production, from R&D to human resources training."   
Bayraktar stated that during our President's last Gulf visit, he signed many agreements with Saudi Arabia, Qatar, and the United Arab Emirates; important cooperation will be established with these three countries in the coming period, particularly in renewable energy and other energy fields. He continued his words as follows: "Today, we are here with TotalEnergies, one of France's biggest companies. They are shifting their focus from solely producing oil and gas to investing in green energy. This is due to their partnership with Rönesans Holding, which will result in new investments in the renewable energy sector in our country. This agreement and investment target indicate confidence in our economy and energy sector. As the Ministry, we will provide all necessary support at every investment stage, including all permits needed from different institutions, to complete these investments as soon as possible. For this reason, we consider the unity formed here today as the first step. I believe the target of reaching 1000 MW should be updated to 5000 MW as soon as possible."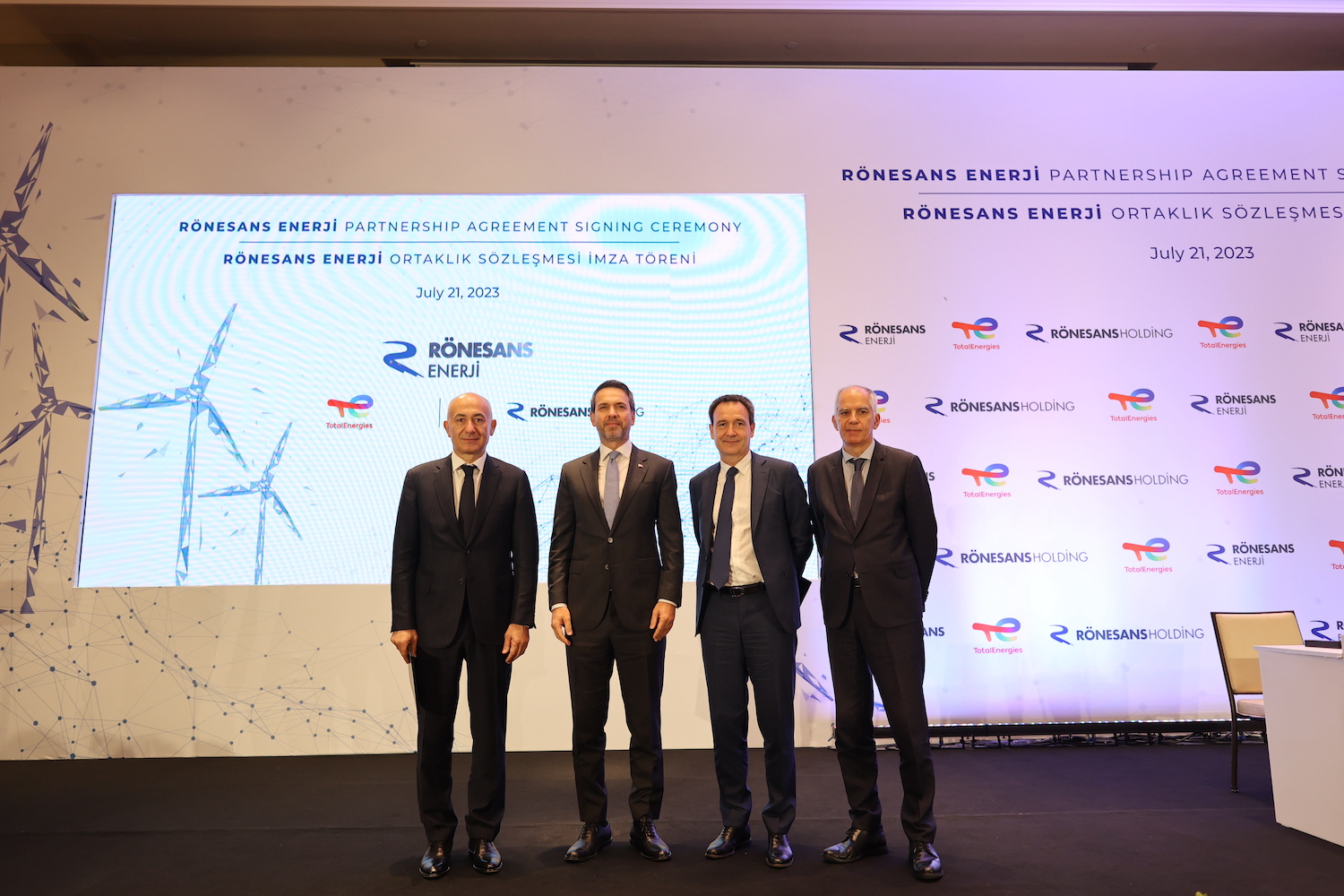 OUR PARTNERSHIP IS OF GREAT IMPORTANCE FOR BOTH THE SECTOR AND TÜRKİYE
In his speech at the signing ceremony, Erman Ilıcak, President of Rönesans Holding, expressed his pride in pioneering Türkiye's green energy transformation through their partnership with TotalEnergies. Ilıcak emphasized that at Rönesans Holding, their commitment to excellence drives them to undertake projects and investments that set global examples. He stated, "With our presence in 30 countries, we generate nearly 70% of our turnover from international operations, while most of our investments are made in Türkiye. Maintaining long-term relationships with our business partners has been one of our key priorities in all our endeavors. We have already demonstrated our expertise in international business partnerships and financing, contributing value to our country. Now, we are leveraging the same competence in the energy sector by joining forces with TotalEnergies in the field of renewable energy. The fact that TotalEnergies has chosen Türkiye as one of its key countries for renewable energy growth and Rönesans as its business partner is valuable not only to us but also to our industry and our country. We are also delighted to witness that this joint venture represents one of the most extensive partnerships in renewable energy in Türkiye to date."
WE WILL CLOSELY MONITOR NEW TECHNOLOGIES AND INVESTMENT OPPORTUNITIES
 
Erman Ilıcak emphasized that Rönesans Enerji has been dedicated to investing solely in renewable energy since its inception and stated, "Rönesans Enerji's commitment to a 100 percent green energy portfolio and our well-structured 5-year investment plan, along with the tremendous growth potential of the Turkish energy sector, played pivotal roles in making this partnership possible. Today, we proudly announce this significant collaboration with TotalEnergies, one of the world's largest energy companies. Through this partnership, we will be at the forefront of exploring new technologies and vertical integration investment opportunities in the green energy transformation. Just as in all other areas we operate, we are also determined to lead our country in the energy sector."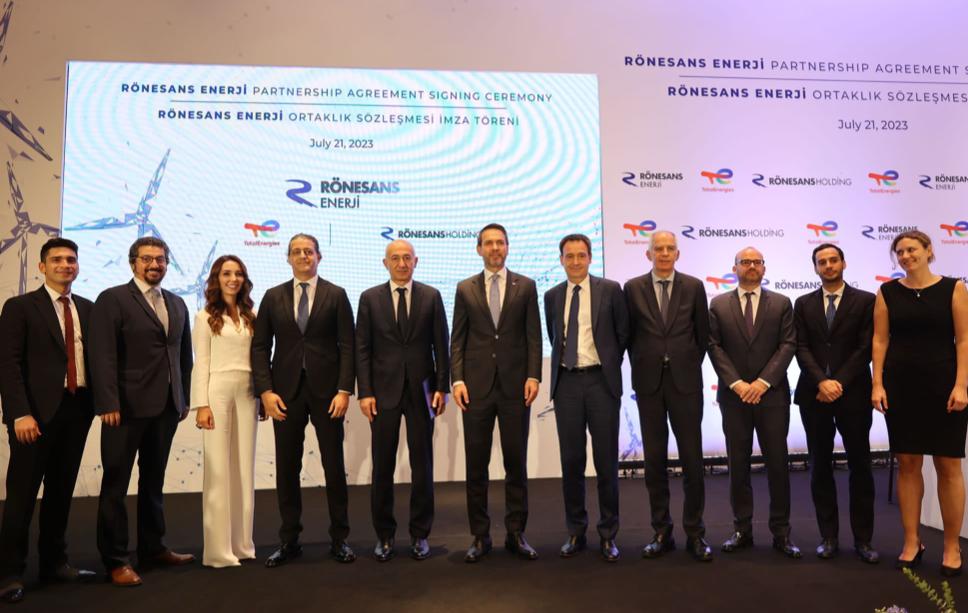 OUR INVESTMENTS IN TÜRKİYE WILL EXCEED EUR 10 BILLION BY 2028
 
Erman Ilıcak expressed that 2023 is a particularly meaningful year for Rönesans Holding, stating, "As we celebrate the 100th anniversary of the Republic of Türkiye, we are also celebrating our 30th anniversary at Rönesans Holding. It fills us with immense pride to mark this milestone with such a momentous partnership on the occasion of our company's foundation. Throughout this journey, we have never seen ourselves solely as an investment or contracting company. Instead, we have leveraged our ability to secure international financing along with our expertise in contracting and other fields; this has enabled us to undertake strategic and pioneering projects that instill a sense of pride in our nation and contribute to its economy. Rönesans Holding predominantly derives its know-how and capital from projects abroad. Alongside our international partners, we have transformed this expertise and capital into investments that generate employment opportunities for our nation and its people. To date, our total investment in Türkiye has surpassed EUR 7 billion. With our investments across diverse business lines, we anticipate exceeding EUR 10 billion in total investments in our country by 2028."  
WE AIM TO REACH NET ZERO EMISSIONS BY 2040

Emphasizing the paramount importance of sustainability in Rönesans' new era journey, Erman Ilıcak concluded his remarks by stating, "As we forge ahead into the future, our unwavering commitment lies in ensuring a sustainable future. Rönesans Holding is determined to achieve net-zero total emissions by 2040, a full decade before the globally accepted target of 2050. As we work relentlessly towards this objective, we have set an interim milestone for 2030, pledging to reduce our emissions by 55 percent compared to 2022. Rönesans Enerji will continue its growth trajectory with a 100 percent green energy portfolio; we will maintain our excellent track record regarding renewables by refraining from developing fossil-based power generation plants. Our focus will solely be on wind and solar energy investments. In this context, Rönesans Enerji will be the driving force behind our unwavering commitment to sustainability."